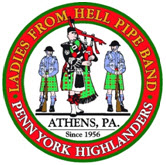 Ever heard "you get what you pay for"?  It's as true for custom drum head graphics as anything else, but that's only part of the answer.  It's also important to be certain that what you're paying for is the right solution for your band's particular needs.
We have developed different fabrications, and different installation techniques, to meet your specific requirements.  We don't produce graphics for a marching   band's bass drum the same way that we produce graphics for the bass drum in a trap set.  And it follows, then, that we don't price these the same.
Some of our competitors have a price list on their web site.  We have made a considered decision not to do so.  This isn't because we're more expensive, as across our product line our pricing aligns with the market.  And we're not hiding our pricing, as we'll be pleased to prepare a quote if you call or email us.  We simply believe that shopping for custom bass drum graphics on the basis of price alone is not going to lead you to the best decision.  Comparing price is easy; comparing value is a bit more difficult.  Or, to put it another way, whether or not we'll have the lowest price at any moment is beyond our control.  Whether we offer the best value is entirely within our control, and that's where we want to be competitive.  Certainly, our long list of repeat customers, and the amount of referral business we generate from our clients, would suggest that the price we charge for the value we offer is pretty well balanced.
Why do we want to make you go through the (awful and entirely unreasonable) task of calling (or emailing) us?  Because we actually do want to talk with you.  We know you're busy, but a few minutes on the phone can help us be certain that what we're quoting for you will be exactly what you want – and also what you need.
Do you think we should list our pricing on our site?  I'd like to hear your opinion.  Send it to Info@DrumImage.com.  And regardless of whether we're in agreement, if your argument is compelling I may make it the topic of a future blog.
See our gallery!